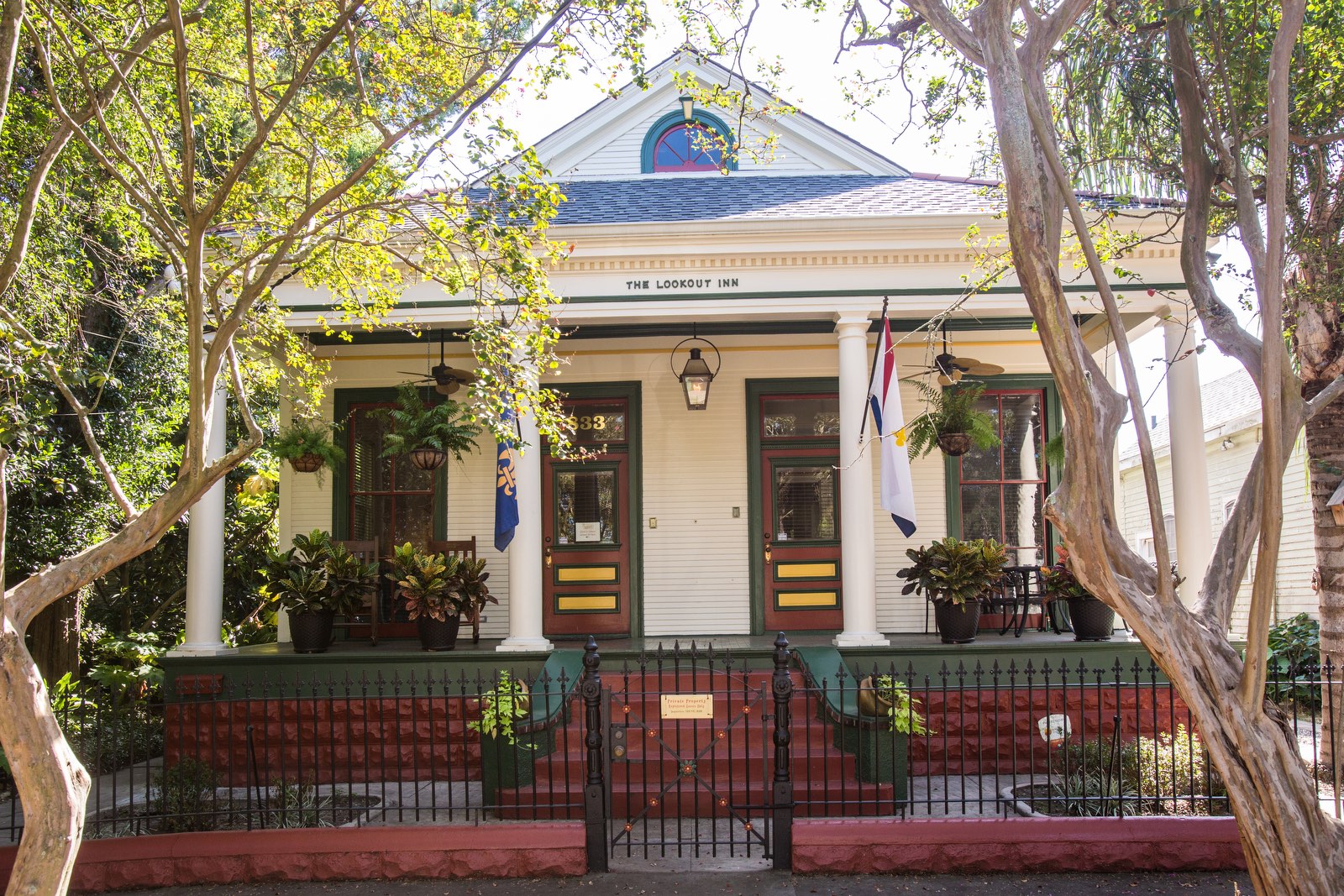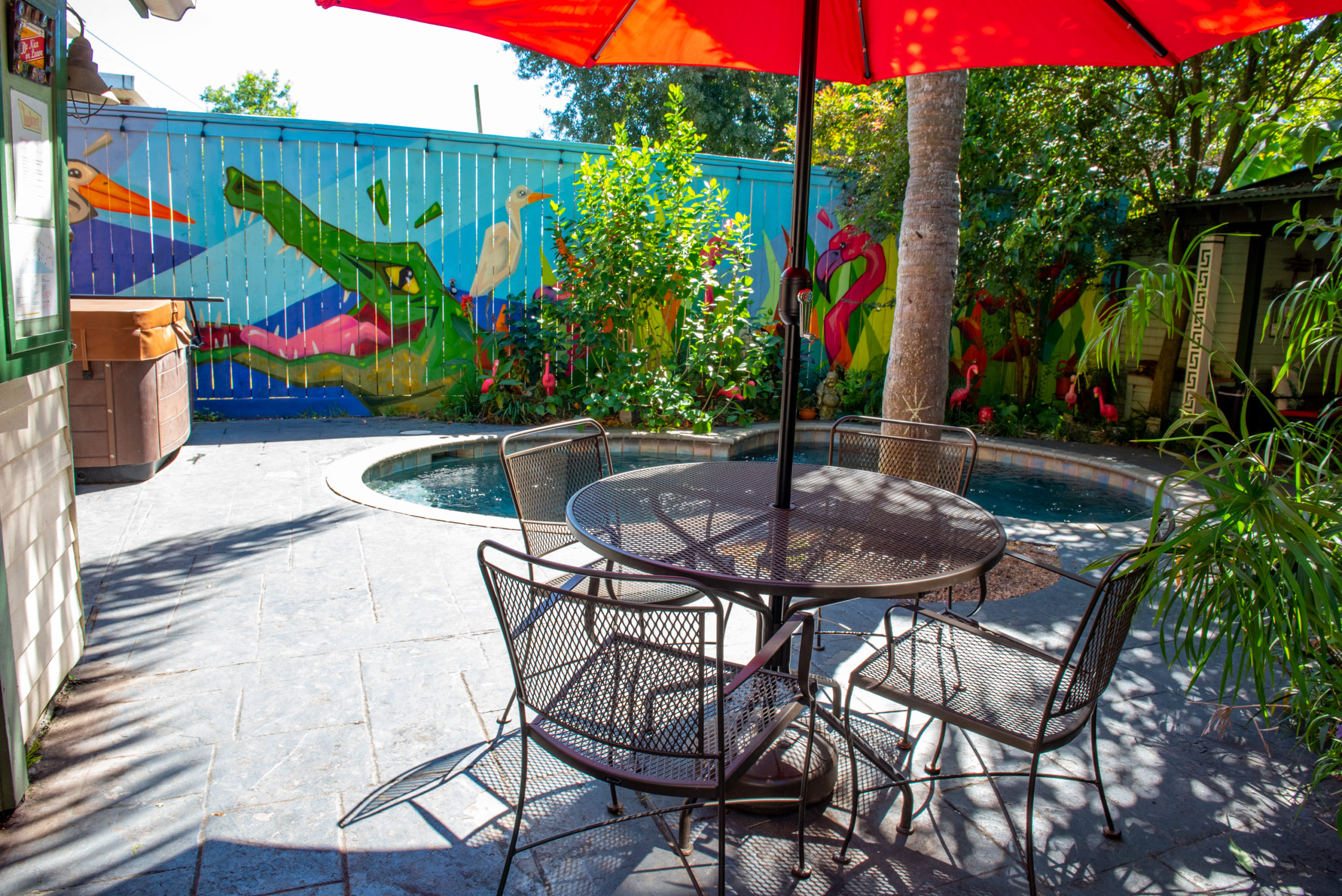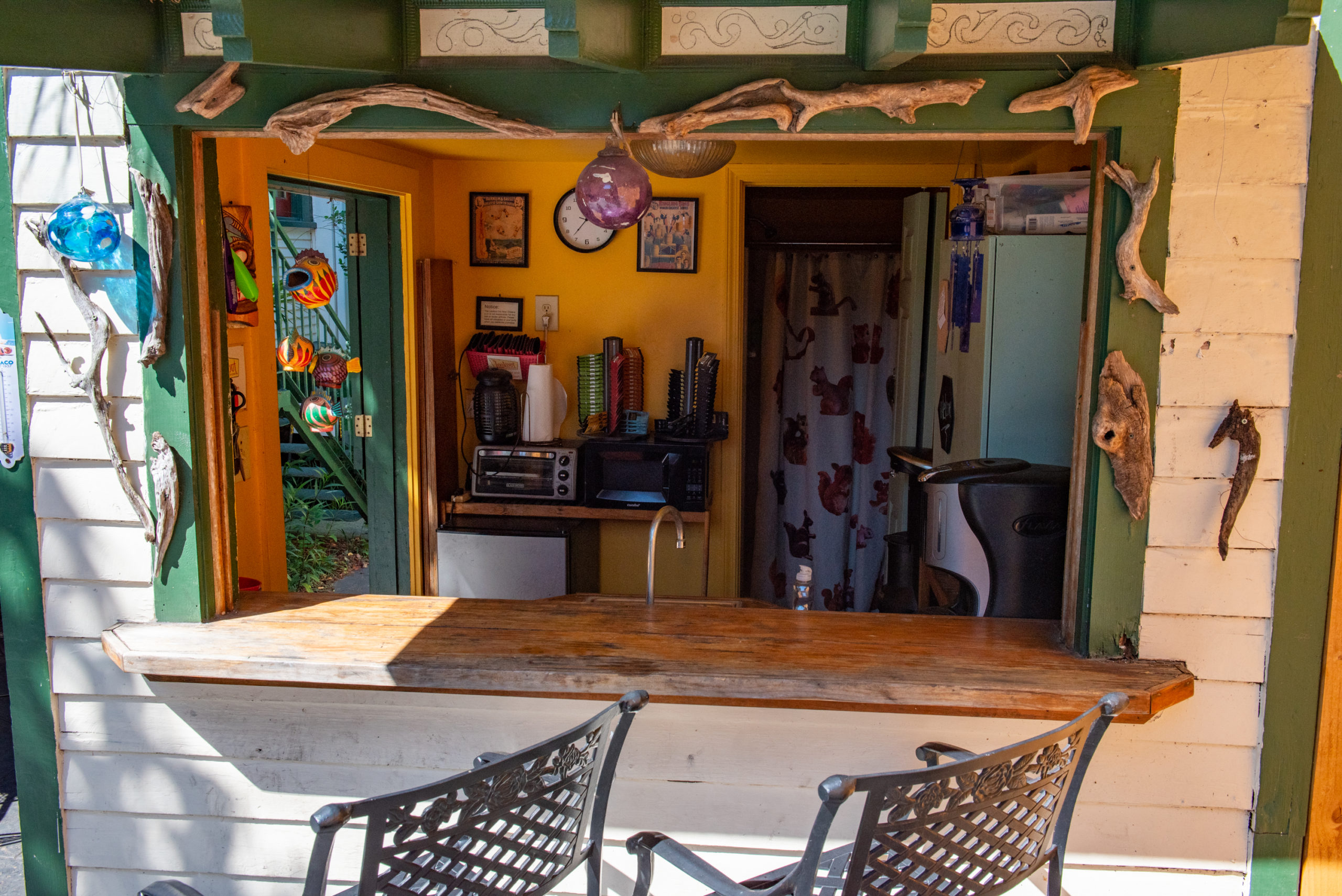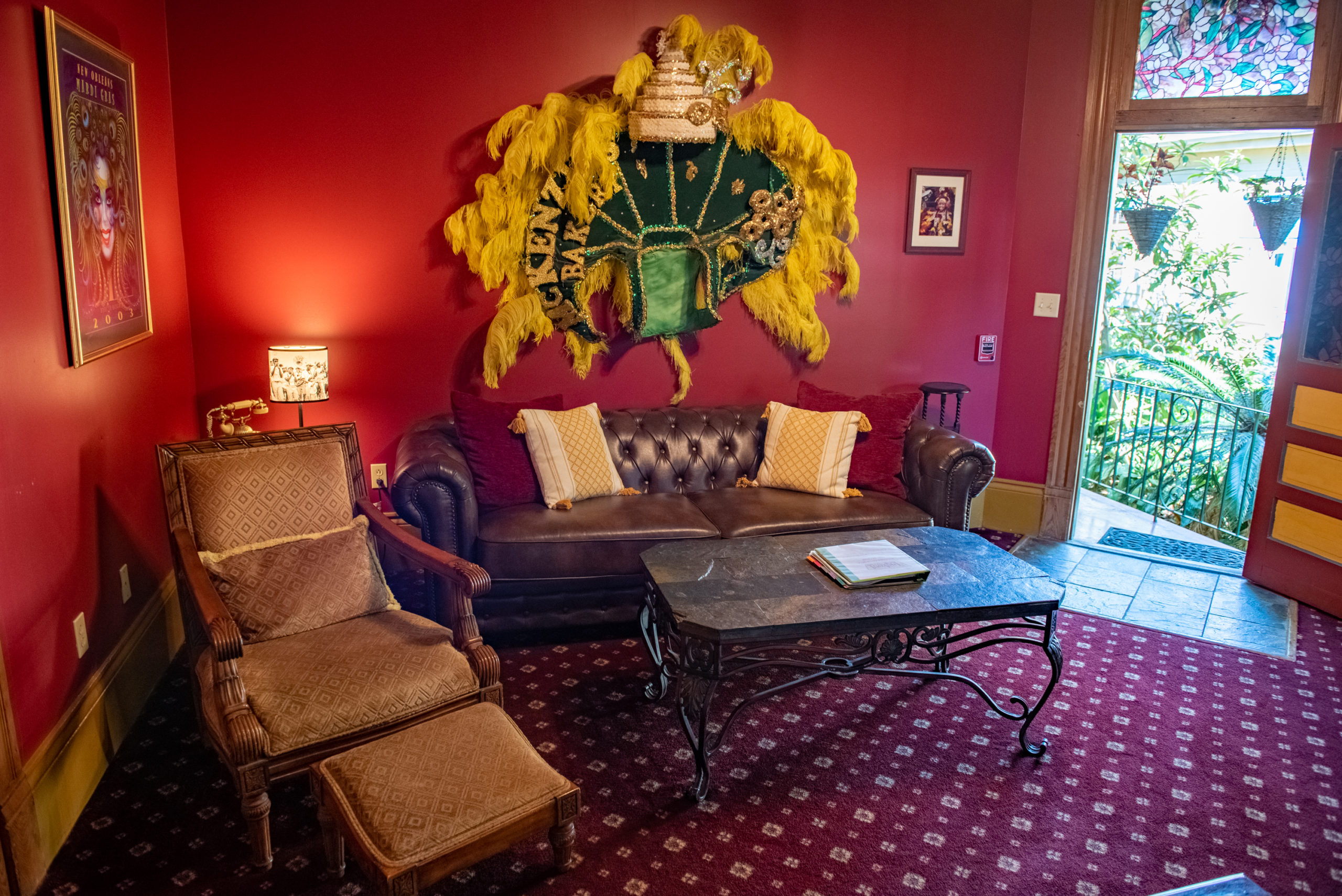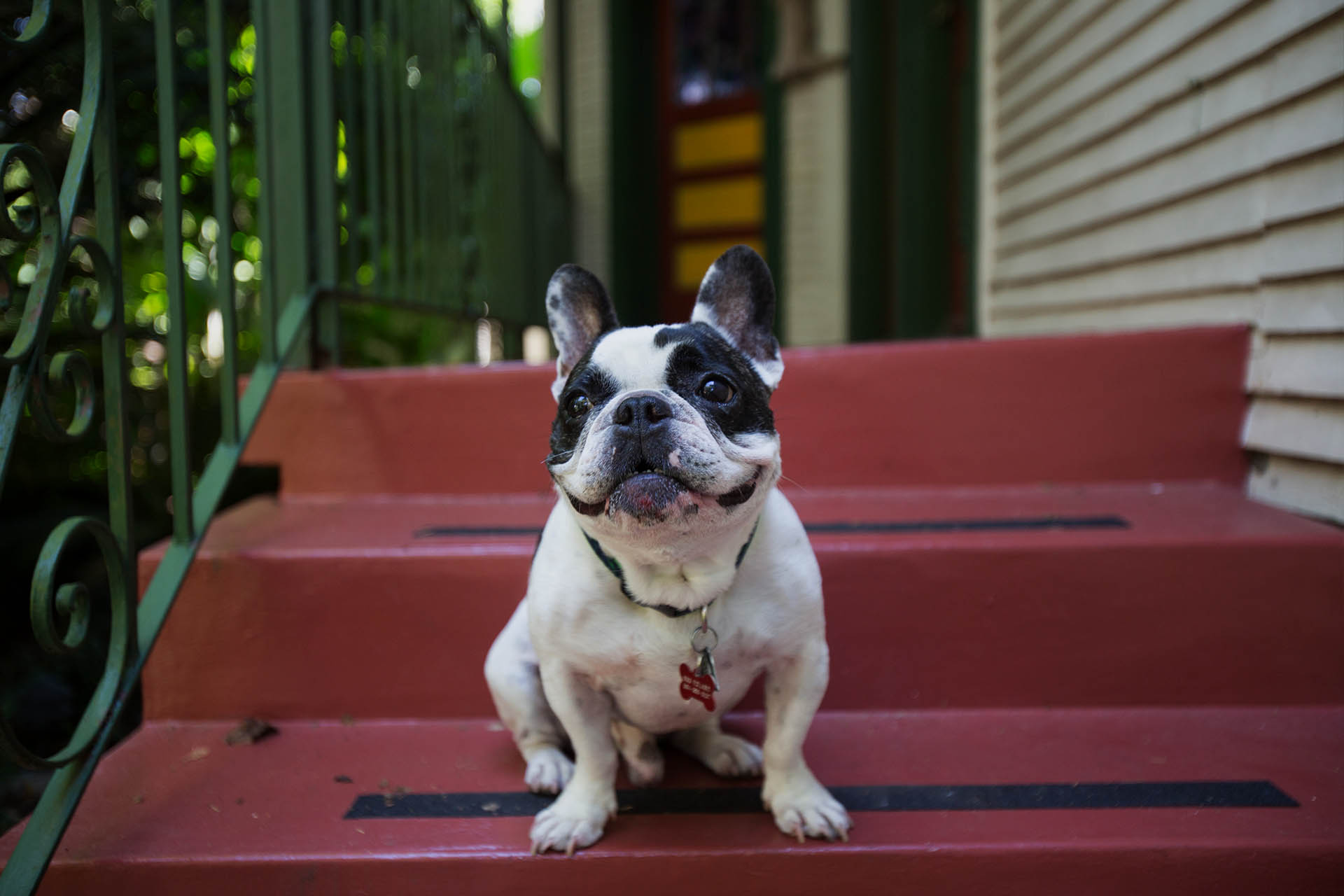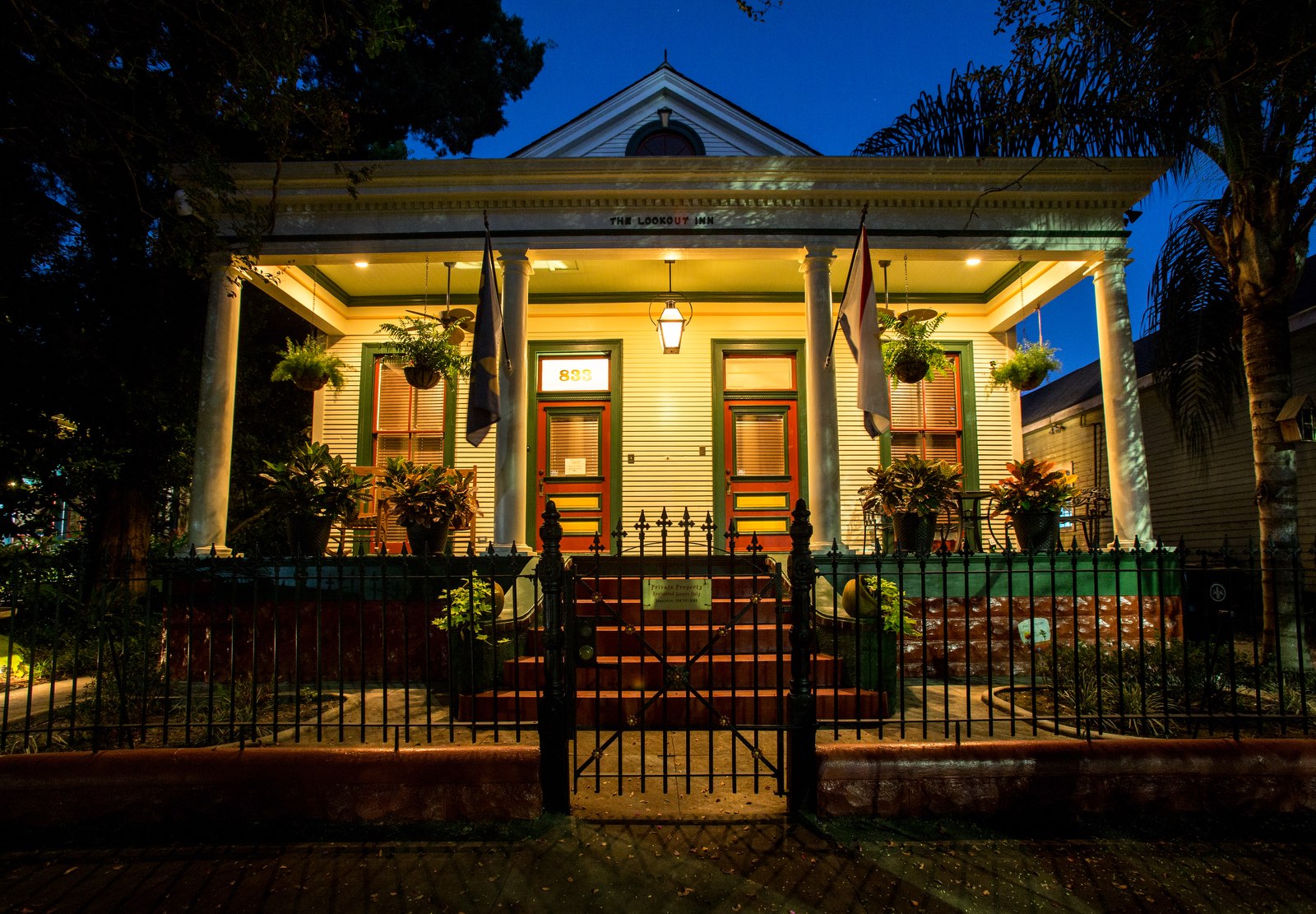 Features
The Lookout is an owner-occupied inn with four whimsically themed spacious suites, each with its own generous private bathroom.
Suites can be rented individually or all four as a group rental. Each suite is approximately 500 square feet and is complete with a queen sized bed and adjacent living room area. Both the Mardi Gras and Bollywood Suites are located on the first floor and the Mission and Elvis suites are located on the second floor and may be accessed by stairs only (no elevator).
We do not provide breakfast. However coffee is available in the cabana as well as your suite to get you started in the morning.
All public and communal space is located outdoors. Sorry, no kitchen or laundry facilities are available.
In-ground pool, hot tub*, BBQ and seating cabana are located in the lush outdoor area.
The poolside cabana features a refrigerator, toaster oven and microwave. Additionally there is a 3 piece bathroom and fresh towels, for those wanting to rinse before or after using the pool and hot tub. Enjoy bold coffee with the Flavia coffee and tea maker. A variety of coffee inserts are available to choose from.
Grab a beach towel and plunge into the pool or hot tub! Want some tunes to go along with that swim? Plug your iPod into the outdoor CD/Tuner/IPod system.
At The Lookout, you'll enjoy a laid back, peaceful atmosphere filled with character and charm in this beautiful, historic New Orleans neighborhood.
Please see "Suites" for more about what our suites have to offer. Our property is not required to be ADA accessible. Please contact us if you have any questions.
*Closed May through September. Hot tubs require regular maintenance and cleaning. We try to schedule this during slow periods. Please inquire with us should you have any concerns about its use or availability during your stay.
Policies & Information
We try to not have too many of them, and we thank you for reading our policies. We appreciate the opportunity to address any concerns or correct problems — we want your stay to be nothing short of great. If there's anything we can do to enhance your visit at The Lookout, we hope you will let us know.
Minimum Night Stay:
One night stays permitted Sunday through Thursday. 2 night stays required on Fridays and Saturdays. Holidays and special events are subject to longer minimum stays. Please inquire.
Minimum Age:
The reserving guest must be at least 25 years old. Guests under 18 years of age must be under the supervision of a parent while on the property.
Check-in and Check-out:
Check-in time is 3pm. If your suite is available prior to that time, then lucky you! We will contact you to let you know how early you may check in.
Tick, tock…
Check-out time is 11 am. A late checkout may be arranged based on availability combined with the severity of your hangover.
Payment Policy:
Rates quoted are for single or double occupancy, plus applicable taxes. The cost for additional occupants is $25 per person per night, not to exceed 4 guests per suite.
A deposit equal to one night's stay per room is payable at the time of your reservation. The balance of the stay is payable 14 days prior to arrival. Particular conditions apply to special events and full-house rentals (below).
Special Events (Including, but not limited to, Mardi Gras, French Quarter Fest, Jazz Fest, Essence Fest and Halloween/Voodoo Fest):These occasions require a deposit of 50% of the total amount, which is non-refundable at the time of booking. The balance must be paid in full 30 days prior to your arrival.
Full-house rentals (all four suites): A deposit equal to the first nights' stay for all rooms is payable at the time of your reservation. The balance of the stay is payable 30 days prior to arrival. In addition, a $500 authorization is taken at the time of check-in to cover any potential damages to the property. This authorization is released upon check-out and satisfactory inspection of guest rooms and communal areas.
Cancellation and Change Policy:
There is a $25 per suite cancellation fee for all cancelled reservations. In addition, guest(s) amount due is non-refundable if cancellation is not made 14 days prior to arrival. For full house rentals, the balance is non-refundable if cancellation is not made more than 30 days prior to arrival. For individual suite reservations, cancellations made more than 2 weeks prior to arrival are 100% refundable, less the cancellation fee. For full house rentals, cancellations made more than 30 days prior to arrival will not be subject to the balance charge, however the deposit is non-refundable. Changes to reservations are allowed based on availability of new dates and are subject to changes in rates.
There are no refunds for early departure.
Reservations are non-transferable. The Lookout Inn will abide by and enforce its cancellation policy, regardless of weather, injury, or other obstructions to travel. Guests are urged to obtain personal travel insurance to protect against any such loss.
Special Note regarding cancellations: We recognize that there are weather, health and other extenuating circumstances that may unexpectedly prevent or interrupt travel plans. Additionally, New Orleans can be prone to severe weather especially during summer months. While hurricane season runs from June 1 through November, historically the peak time of a possible storm event would be in July, August and September. With this, we strongly urge our guests to obtain travel insurance year round to financially protect themselves from unforeseeable conditions. As a small business, we are unable to provide refunds for these circumstances that fall outside of our cancellation policy.
Children:
We love children (but prefer pets—see below), our inn is oriented toward responsible adults. However, children will be welcomed under the supervision of a parent. Also, we expect children to stay in the same suite as a parent, unless a full property rental is arranged.
Pets:
Percival Winston is the resident French Bulldog and mascot. He is a friendly fellow that you may see around the garden, assisting the innkeepers. As dog enthusiasts, we are a pet friendly inn –well-mannered dogs only. Sorry, no cats. A pet fee of $40 per stay is required at the time of booking. Additional charges may apply at the time of check-out if there are any pet-related damages to the property.
and while we're speaking of…
Damage to Property:
Guests are responsible for any damage or loss, including damaged or destroyed towels, linens, furniture, carpets, artwork or other furnishings in the suites and communal areas. The cleaning fee minimum is $200.
Smoking:
Smoking is not allowed anywhere in the building. Smoking is permitted only in the outside pool area at the rear of the property. Ashtrays are provided. Please smoke responsibly. In the event that cigarette butts or excessive ash are found in the pool, potted plants or outdoor gardens, a $150 penalty will be charged. Evidence of smoking in the inn, including the smell of smoke in the room, will result in a minimum $150 charge. (Yes friends, we mean any kind of smoke.) No burning of any sort of object , including candles or incense, is allowed in guest suites.
Parking:
Free street parking is available right outside the inn. We are located in a residential neighborhood and it is rarely an issue to find a parking space. We are not responsible for damage to vehicles, or damage or loss of property left in parked vehicles, regardless of location.
There is no helipad on site; we apologize for any inconvenience.
Laissez les bons temps roulez, but…
Parties, Events and Shindigs:
The Lookout is a small inn located in a charming residential neighborhood. Therefore, please do not come here to host a Bourbon Street-style blow-out. Yes, we're talking about bachelor and bachelorette parties and swingers reunions. Guests who disturb other guests or neighbors will be asked to leave and will not be provided a refund. Due to the intimate nature of our property, gatherings that include non-resident guests require the innkeepers' prior approval. Decorations are permitted for full house rentals. Please no decorations on the front of the house. And absolutely, undeniably, positively NO confetti or glitter. Got it? Cleaning fees will apply in the event a glitter bomb goes off while you're staying with us.
Quiet Hours:
Even though your rendition of "I Will Survive" wins prizes at home, we ask that you show respect for other guests and our neighbors and keep noise to a minimum between the hours of 10 pm and 8 am.
and on the flip side…
Pool and Cabana area:
Please enjoy the pool and hot tub between 8 am and 10 pm only. The pool is unsupervised, so all children must be accompanied by an adult when in the area.
FYI, due to our Puritan family heritage, the pool and hot tub are NOT clothing-optional. Sister Mary Aloysius from nearby "Our Lady of the Wandering Nuns" convent stops by to make random swimsuit checks. You do not want to fail that inspection.
One last thing…
Hot tubs require regular maintenance and cleaning. Please inquire with us should you have any concerns about its use or availability during your stay.
Our property is not required to be ADA accessible. Please contact us if you have any questions.

If you have made it to the end of our policies: thank you, congratulations and welcome to The Lookout Inn! We can't wait to see you.


Kelly, Mark, Florence and Percival
Meet the Innkeepers
If you've read this far, we must have piqued your interest in our inn. So we'd love to give you a little more detail about ourselves, just for reassurance that you won't be sharing a roof with creepy strangers.
As the head honcho of this joint, I'll take charge of the bio's.
I'm Kelly Rayner. I was born and spent my first nine years in England. It was jolly good fun, and I still feel a little treasonous when I celebrate Independence Day. After spending the rest of my youth on the mean streets of Long Island, New York, I enrolled at Loyola University here in New Orleans. Like many of my northeastern classmates, I fell in love with New Orleans and never went home. A couple years after graduating, I fell in love with my future husband, making him the luckiest guy on earth.
Mark Heck (said husband), is a native son of New Orleans. He was born and raised in Chalmette, affectionately referred to by locals as 'da parish'. Mark is a proud graduate of Tulane University, and Mark's mom and dad are the proud parents of their Green Wave grad and successful local architect.
After a year of Mark's blissful marriage, we found and fell in love with The Lookout Inn in 2013. (So much love, right?!) Already operating as a funky little alt-hotel, Mark and I threw in a whole lot of sweat equity, elbow grease, duct tape, shingles and paint to really make her shine. Ever since then, Mark has kept architect-ing, while gigging at night and on weekends as the Lookout handyman, pool guy and remote control fixer. Occasionally, if you're lucky, Mark can also be found at his hobby, smoking ribs and brisket in the driveway. (Shoot him a compliment or question—he's an easy target for a free sample.)
Meanwhile, I mastermind the day-to-day operations of The Lookout Inn—soup to nuts, from marketing strategies to stain removal tactics. I love to catch up with guests and shoot the breeze, when I'm not busy managing my needy staff members, namely….
-Percival Winston (Percy), our French Bulldog. Now in his senior years, Percy is as useless now as when he was a puppy. However, he is the official Lookout Inn greeter, and he is the staff member that likes to schmooze poolside with the guests and listen to their tales of fun and/or regret from the previous night. Your secrets are safe with him.
-Florence Marie (Tiny Flo), our little (human) girl . Like most small humans, Tiny Flo is a pretty unproductive innkeeper. But she is so darned cute, and since she's not on the payroll, I'm quite happy for her to tag along wherever I go. Florence loves meeting new guests, but like any professional innkeeper, she keeps her tantrums and all her other bad habits well away from guest view.
Now you know us. What's not to love? You need a vacation. We hope to see you soon.
We may be lighthearted, but we are taking COVID 19 seriously and only want like minded guests to be staying with us during this challenging time. This is how we're handling things now:
Each suite will be sanitized prior to guests arrival, in addition to our normal cleaning practices. Suites will be disinfected between stays.
We are not entering guest suites during stays. We ask that you reuse your bath and beach towels that are available in your suite. If you need anything during your time with us, please let us know and we will deliver as necessary.
All towels and linens washed and sanitized between stays.
No additional guests allowed on property; only those listed on the reservation. In addition, only 2 people will be allowed per suite (with the exception of children traveling with parents or a whole house buy out).
In a joint sustainability and COVID safety practice, ceramic coffee mugs are available in the suites as well as outdoor cabana. And reusable water cups are available in the cabana alongside our water cooler. We are doing our best to reduce to single stream waste. Take a mug or cup and use it for your entire stay.
This intimate property does not have an indoor common area and therefore allows for guests to have plenty of their own space with limited physical interaction with other guests. Being a small property, we want you to feel confident and comfortable in choosing us as your accommodation during these changing times.